DUE TO LOW PARTICIPATION, THE CONTEST HAS BEEN CANCELLED.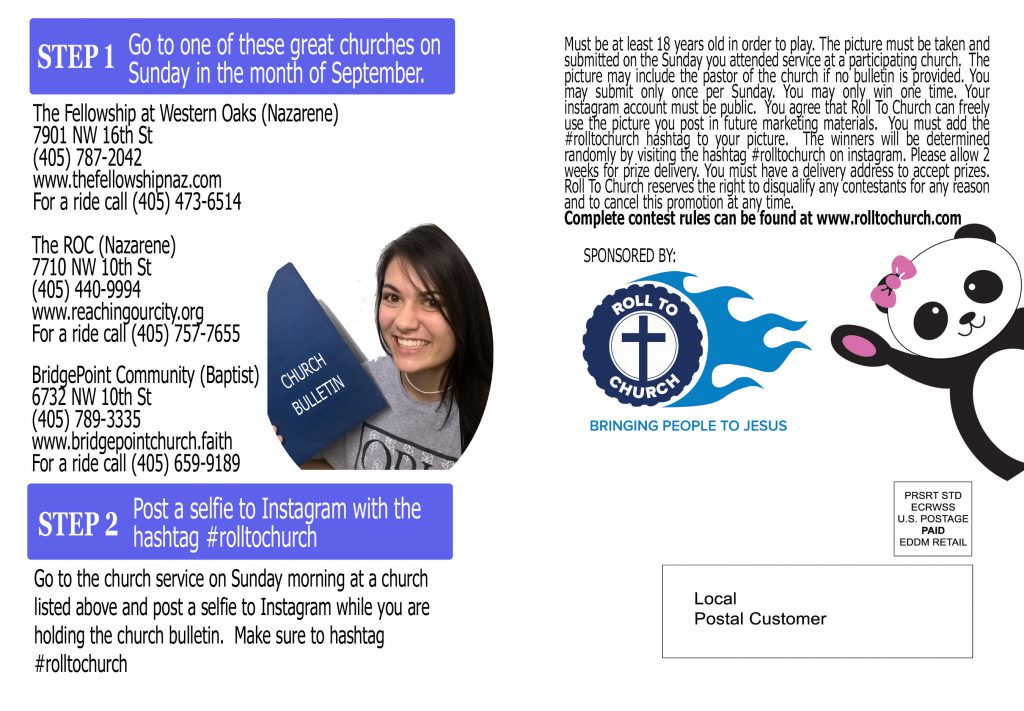 Contest Rules:
*Must be at least 18 years old in order to play. The picture must be taken and submitted on the Sunday you attended service at a participating church.  The picture may include the pastor of the church if no bulletin is provided. You may submit only once per Sunday. You may only win one time. Your instagram account must be public.  You agree that Roll To Church can freely use the picture you post in future marketing materials.  You must add the #rolltochurch hashtag to your picture.  The winners will be determined randomly by visiting the hashtag #rolltochurch on instagram. The drawing for the prize may take place as early as 1 PM on each Sunday in September.  Please allow 2 weeks for prize delivery. You must have a delivery address to accept prizes. Roll To Church reserves the right to disqualify any contestants for any reason and to cancel this promotion at any time.  Roll To Church, Inc. staff and their family members and church staff and their family members are not eligible to win prizes.  Contest will be canceled due to low visitor participation and no prizes will be awarded.  Contest will be canceled if the majority of the participants are church members.  In the event that the contest is canceled, a notification will be displayed on www.rolltochurch.com.  If the winner of the contest is unable to be contacted within 1 hour of the drawing, another participant will be selected.  By participating in this contest, you agree to take a picture with the prize and allow Roll To Church, Inc. to freely use that picture in future marketing materials should you be selected as the winner.  By participating in the contest you agree to indemnify and hold harmless Roll To Church, Inc. and its leaders, employees, volunteers, partnering churches, or agents from any and all claims arising from my participation in its activities, contests, and programs, or as a result of injury or illness of the person(s) mentioned on the front of this document during such activities.  You also agree to limit the amount of any damages to $5.
Contest Goal:
The goal of the contest is to bring visitors and people unfamiliar with church to a great church so that they can experience what the church has to offer – a relationship with Jesus.  If the contest's goal is not being fulfilled in any way, Roll To Church, Inc. reserves the right to cancel the contest at any time.